CAKE JARS
Our cake jars are ready to eat cake and frosting layered in a portable jar. Jars come in two sizes: small and large. The small jars are perfect for favors, stuffing baskets and stockings, or anytime you want a little treat. The large jars are similar to eating a slice of cake and perfect to take along as a portable way to enjoy dessert. Pre-order on this website for pick-up or our online shop for shipping. We ship nationwide!
WE CAN NOW PRINT CUSTOM LABELS FOR THE TOP OF YOUR JARS! PERFECT FOR FAVORS, EVENTS AND ANY TIME YOU NEED A SPECIAL MESSAGE. SEE MORE BELOW:
Our cake jars come in 9 regular flavors and one monthly flavor. We can also do special requests for flavors or frosting colors!
Pricing:
Small Jars: $4 ea
Large Jars: $7 ea
Custom Top Labels: 25 cents ea. if you provide the graphic (supported documents include jpg or png). Ordered in quantities of 12.
We can create a graphic for you for an additional $25
GIFTING
Whether you're sending a gift to celebrate a special birthday or as a thank you, we know how important it is to you. Which is why we handle every gift just like every order that comes to our shop---with personal care and attention to detail. We handcraft all of our baked items fresh per order; hand pack each box; handwrite each gift note and add personal touches depending on the life event you are celebrating.
Because of the care and attention to detail we entail, your gift arrives as it should. If for some reason it arrives damaged by the mail or elements, we will be happy to replace it.
What We Ship
Cake Jars
Cookies
Pies
Gift items
Our Gifts are Perfect to say:
Happy Birthday
Thank You
I miss you
Good luck
I'm sorry
Thinking about you
Sending my condolences
I love you
and many more. . .
and since you asked "Just what are cake jars?"
For many years our customers asked questions like "Do you ship?" and "Can I send my favorite cake to my family in California?" Some of our customers moved away and kept messaging us to please send their favorite treats! So we figured out a way to safely ship the favorite flavors by putting them in a jar. People love receiving a little cake!
We ship Cake Jars by themselves or you can choose to send a gift box with cake jars, cookies or pies. Food comforts the soul and signals a celebration. We are happy to help you in your gifting needs. If you have a large order or need something custom, simply contact us at thesugarpath.orders@gmail.com.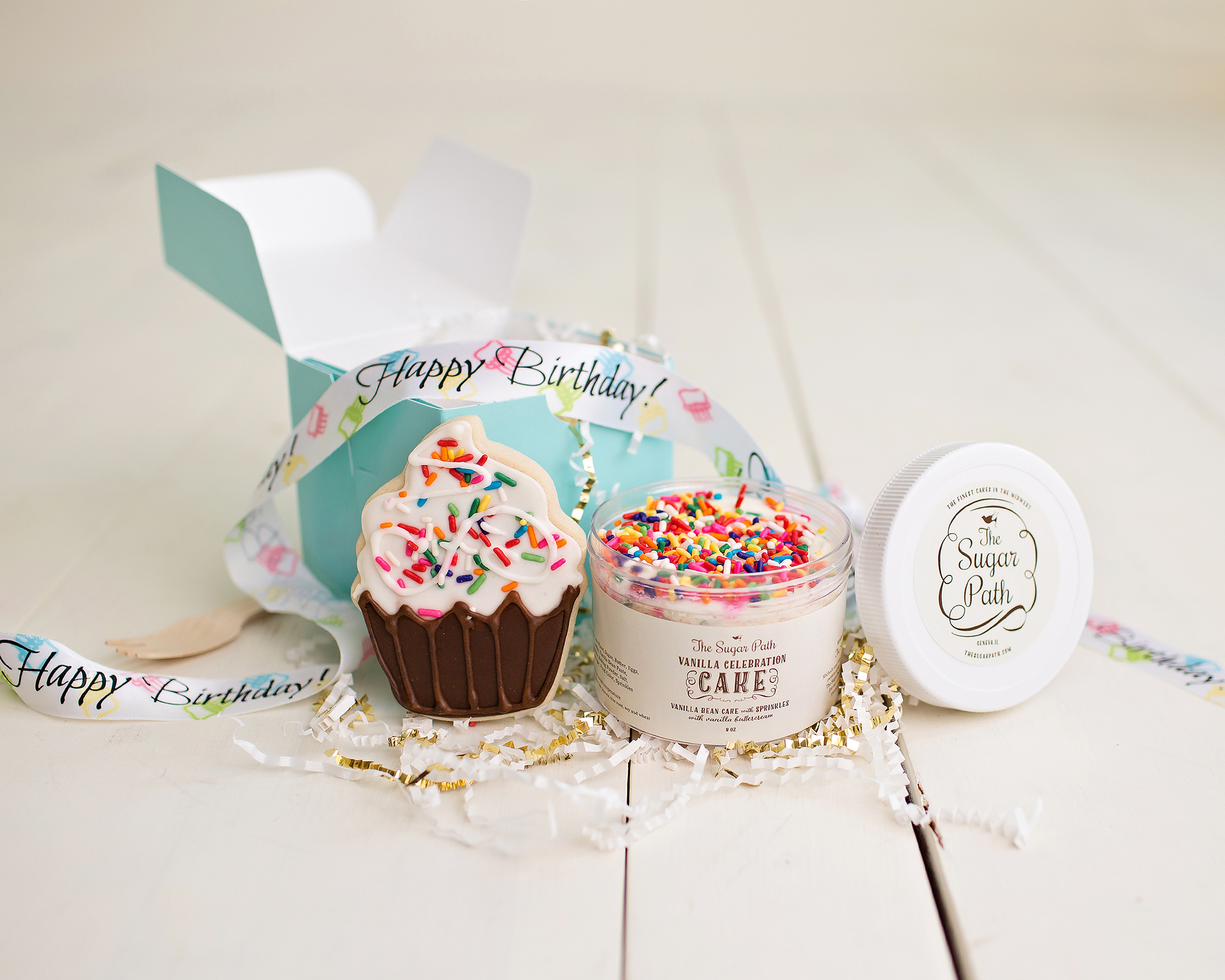 Celebrate a birthday with a Birthday Cube gift!
For shipping or Pick-Up! Birthday Cake Jar and Cupcake Sugar Cookie in a Blue gift box with ribbon!
Celebrate the Paper Anniversary!
The First Anniversary is also known as the Paper Anniversary so send them some confetti! Also included is an Anniversary Cake Jar for the special couple!
CAKE JARS CAN NOW BE ORDERED FOR PICK-UP IN ANY FLAVOR!
Need a special favor or portable treat? Our jars are now available in a variety of our popular flavors! Just call for a list or email our events team at events@thesugarpath.com for more information.
Order your gifts for shipping at www.sugarpathshop.com or click the link on the home tab. Below are some of our gifts---enjoy!
We specialize in large orders, events and gifting! Call us for information on:
Custom labels
Large quantity packs
Special decor (sprinkles, frosting color, flavors)
Shipping
Business Gifting