Business to Business
We understand business needs. Whether you need to cater a large event, stock your shelves, or you need special gifts. We are adept at handling any amount. More than that, we are professional and responsible.
Are you looking for unique items for your customers, clients or employees? Whether you are an office manager planning a company celebration, a coffeehouse wanting to add to your menu or a business searching for corporate gifts, we offer the perfect solutions. Since our opening we have partnered with other businesses in many ways and have years of experience in how to help you. Here are a few of our services:
---Corporate Gifting
---Corporate Catering
---Wholesale
-- Celebrity Events

Celebrity Events:
Corporate Gifting:
Stay ahead of the competition by offering something sweet to your customers in appreciation for their business. Clients appreciate thoughtful gifts such as a homemade pie or a box of cupcakes. Having worked in the corporate world ourselves, we understand the importance of corporate gifting and can offer suggestions to you on how to send a memorable gift that will wow your customers.
Perhaps you would like to hand out a special favor? Try a custom cookie with your logo on the packaging.
Need to ship your gift to a client in another area? We have the perfect solution--give a Sugar Path cake jar. Our jars can also be personalized with your logo. Email events@thesugarpath.com for more information.
Our Cookie Program is designed for businesses. . .
We offer two types of services:
Cookies for your customers to eat while they shop (perfect for car dealerships, retailers and realtors); and
Thank you gifts shipped nationwide.
Ask for a price sheet at thesugarpath@gmail.com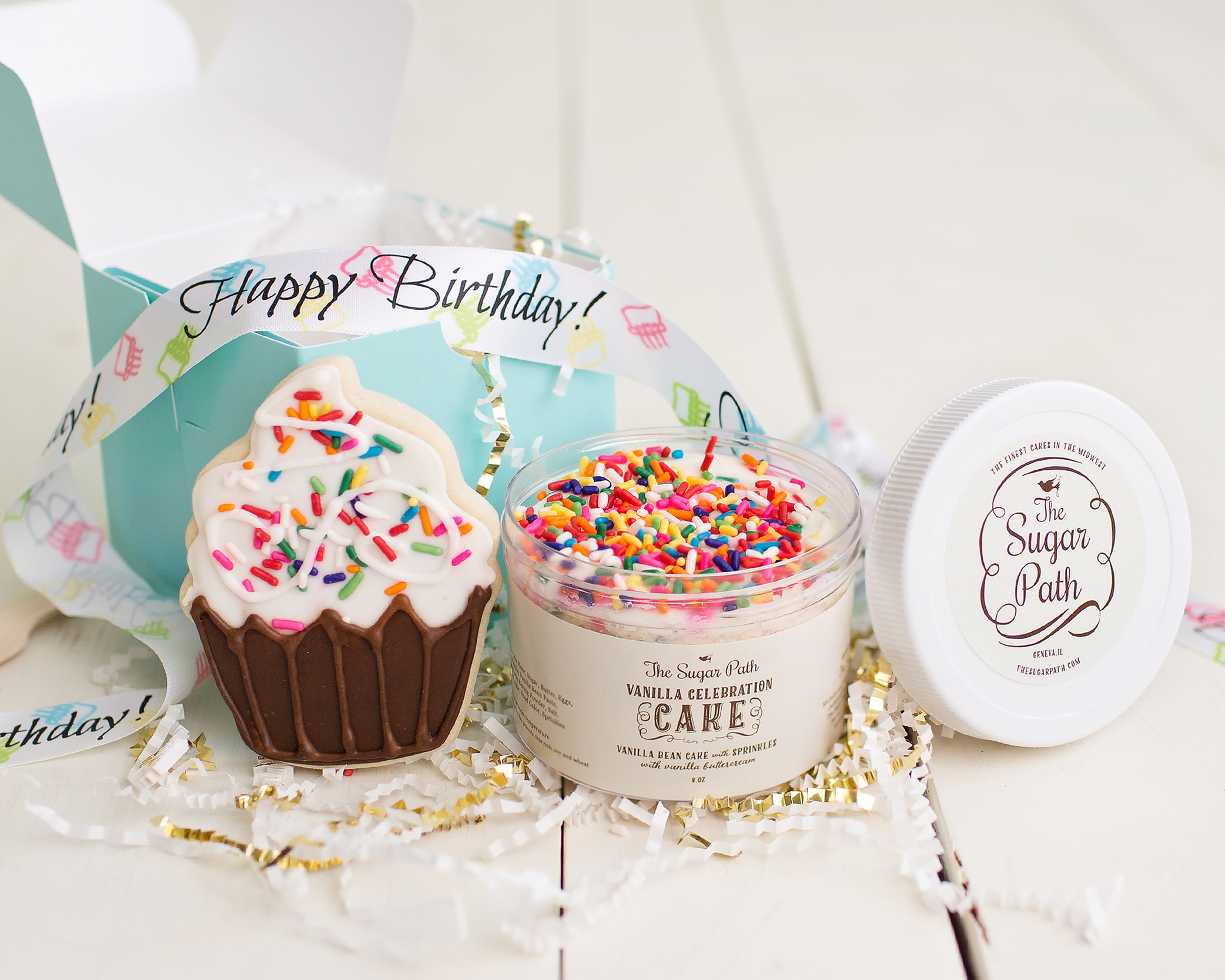 Everyone has a birthday. . .
Celebrate your employees and clients with a birthday box! We ship anywhere in the United States including Alaska and Hawaii!
And if you are in the wedding industry, acknowledge the 1st Anniversary a/k/a the Paper Anniversary with Confetti and Cake!
Corporate Catering:
Whether you are honoring an employee's retirement or having a big holiday bash, don't forget the cake. Call us and ask to speak to an event specialist who, with just a few short questions, can plan the dessert table that will keep them talking for years to come.
Wholesale:
Not all bakeries are experienced in commercial production. Since our opening we have mastered techniques that allow us to produce handcrafted desserts and pastries in high volume while maintaining quality and amazing customer service. We are pleased to provide pastries, desserts and savories to restaurants, cafes and shops looking to add to their menu. We have a wholesale menu and can offer delivery with large volume, consistent orders that fall within our delivery range. We are known for our quality, consistency, service and ease of ordering. To receive more information on our Wholesale menu, please submit the form below and we will get back to you. Please let us know what you would like to wholesale.
When you need to stock your shelves, we offer cake jars in nine flavors plus a monthly flavor (or can custom create a flavor just for your business!).
When you need to serve your customers some special dessert, consider one of our own customers' favorites like Coconut Cake or Key Lime Pie!

Contact us for more information. Fill out this form and we will be in touch!